Sale - Bath linen
Up to 50% off on a selection of bath linen.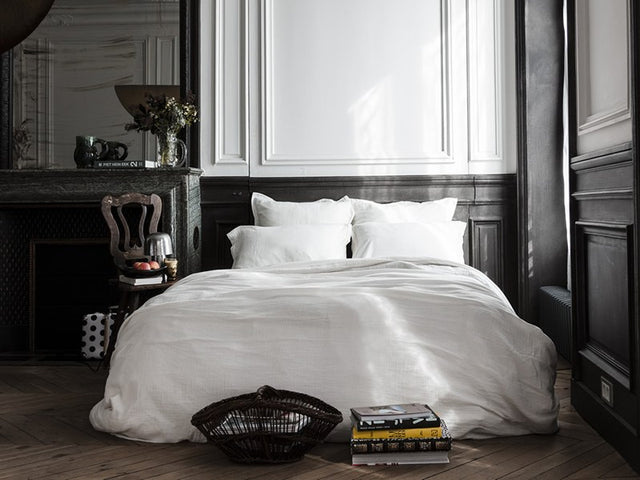 This collection will be back soon.
In the meantime, check out our selections on merci-merci.com:
Back to homepage
Bath Linen On Sale
A unique selection of bath linens (bath towels and towels) available in our store and on our e-shop. Discover now our sale selection of Merci bath linens. Merci sales are back for you this winter with a selection of washed linen bath linen for a limited amount of time. Discover now of our washed linen bath towels, iconic and timeless pieces from the Merci boutique, available now in unusual and unique colors exclusively for this period of sales. Tuscan Green, Heather Purple, Mist Grey, Ischia Blue, Bourbon Red, Storm Blue, Prussian Green, Autumn Green... Eight colors to accompany you in your bathroom, at the beach, but most importantly, in your daily life. Our bath towels will be ideal for when you get out of the shower or after a swim in the sea. Its impressingly very tight weave gives it a strong absorbent power and an amazing softness. These bath towels are quite large (140 on 200 centimeters) and can be used as a towel for when you get out of your bubble bath or as a beach towel for two people that you can lay on the sand and sit onto. Our Honeycomb towels will be ideal when you get out of the shower or after a swim in the sea. Their absorption is so good that your hair will be perfectly wrung out and will dry all the faster. If you have sand in your hair, the advantage of the Honeycomb weave is that it does not catch the sand grains. You can also use these towels to wipe your face after your daily skincare routine.
One color can decorate your bathroom. Or you can have fun mixing and matching different colors and create something personal and unique that resembles you. Merci linen, a natural material with a delicate touch, is grown in France and Belgium. It is certified label OEKO-TEX® STANDARD 100. The advantage of washed linen: in addition to being cool in the summer and warm in the winter, it has the grand merit of being anti-allergic and anti-bacterial. It is therefore suitable for sensitive skin types and babies. For the care of this delicate material, prefer a wash at 40°C maximum. It is also recommended to air dry. Free shipping in France and Monaco for orders above 100€. You can also pay in a secure way in 2 or 3 times, without expenses, with Alma starting from 150€ of purchase, in France, Belgium, Germany, Spain and Italy.. On our e-shop, we do our best to offer you a selection of products that will meet your standards. Visit us and discover more products in our Parisian store located at 111 Boulevard Beaumarchais 75003 Paris. You can also join us by subscribing to our newsletter to be the first to know about new products. For any additional request or information, do not hesitate to contact our customer service.
Lire la suite